As we arrived at New Haven, I was amazed at how the scenery before us transformed. As the tall buildings and crowded freeways of New York morphed into the elegant architecture and spacious streets of Yale and New Haven, I couldn't help but think about how excited I would be to be able to attend this school in the fall.
Unfortunately, on Monday, I had gotten sick and it had only gotten worse during the flight. Upon arriving in New Haven I decided to rest up a little before venturing into Yale, and I took a short nap in my dad's hotel room to regain lost energy from the trip here.
During registration, I had originally signed up to room with a Yale host, but I decided that because I was feeling ill, I didn't want to pass it on to my host. I (regretfully) had to decline rooming with a host and instead decided to spend the night in my father's hotel room.
After registration, we were stuck in between blocks of activities, so my father and I drove around the campus to get a feel for the various parts of Yale and the community of New Haven.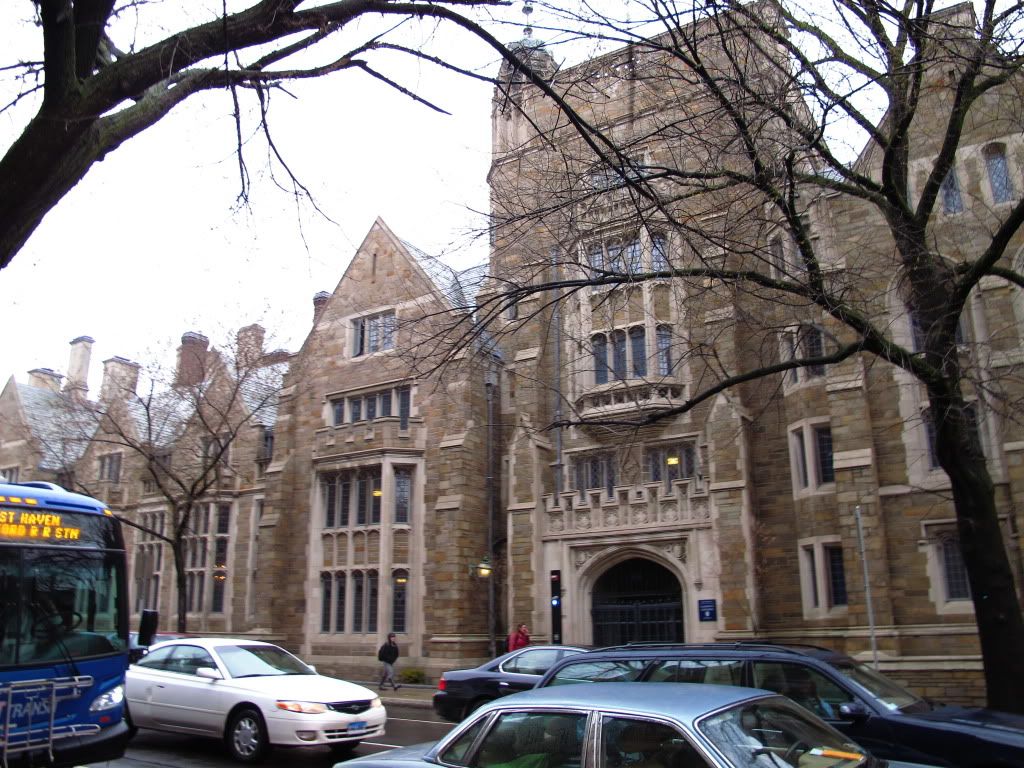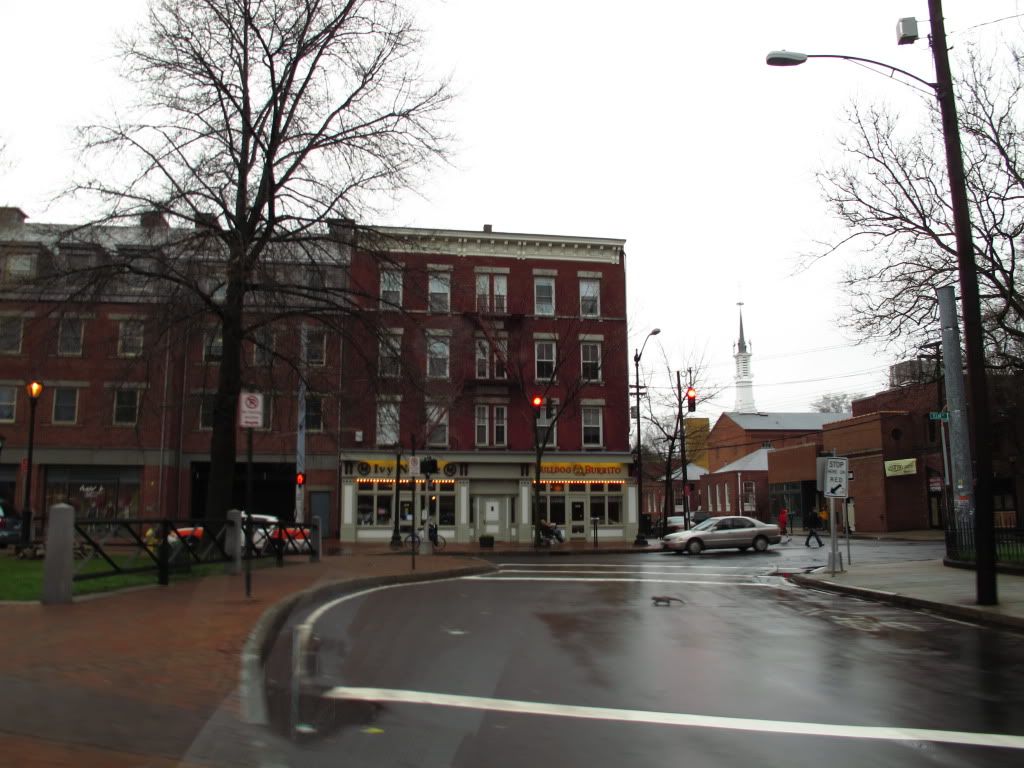 New Haven and Yale are amazingly beautiful. The pictures that I post do not do justice to how truly stunning the architecture and the buildings are. The beauty of Yale is present not only in the architecture, but also in how lively the campus is. Everywhere I looked, there were Yale students who looked as if they were taken straight out of the college pamphlets and fliers. They were smiling and actively talking to the prefrosh around them. Most importantly, they were all wearing Yale related apparel. I know it may sound strange that this is important, but I remember during the summer, when I visited Boston College, our tour guide remarked that the reason he chose Boston College was because there was such a strong sense of community, evidenced by the fact that almost everyone was wearing Boston College clothing.
At Yale, not only was everyone wearing Yale clothing, but they were trying to get us to wear Yale as well! They were giving out free Yale Class of 2015 t-shirts online to all admitted students, and although I had ordered one, it hadn't arrived yet by the time I left for Yale. But they were also giving away Yale notepads, pens, and even ponchos for us to protect ourselves from the darkening skies. But that is just a testament to how much Yale cares for the students who they carefully select.
At night, I went to the ice cream social party in the Commons Dining Hall, which looks a little bit like the Hogwarts Dining Hall. Apparently, this is not an uncommon sentiment, and a lot of the school looks like it was lifted straight out of a fantasy book. Inside, the place was packed with prefrosh of all colors, shape, and size. Unfortunately, as I was trying to find people to socialize with, I realized that I had no idea with who or how to be social. So I ended up walking up and down an aisle a few times, stupidly looking for someone who was also by themselves to connect with.
After making a few laps around the dining hall, I finally found another person sitting alone. I immediately went up to her and introduced myself to her, and although it was a little awkward at first, it was good to finally find someone I could talk with, without confronting a whole large group at once.
Her name was Aunica, and we basically went through the usual repertoire of questions, i.e. "Where are you from?", "What is your major?", etc. But in the middle of our conversation, we were suddenly interrupted by a loud blast of music from the front. The Yale Precision Marching Band had arrived.
They sounded amazing, but they made it difficult to talk, so Aunica and I went outside. I wanted to go to a meeting later that night for Building Bridges, a program where college students go to China for a week over summer to teach science and math to students in impoverished communities in rural areas. However, we had no idea where the meeting was to take place. I wish I could tell you that we found the classroom quickly and easily, but sadly, that's not the case. To be truthful, I am terrible at directions. We spent half an hour wandering around campus, avoiding improv groups who were mercilessly trying to persuade us to watch their show that night, before we realized the building was right in front of us.
Inside, apparently they were not ready yet, so we spent some more time dodging the same relentless improv group and roaming around the beautiful campus at night. Although it was a mildly cold spring night, the air outside was refreshing and cool, and it made me feel a lot better than I had in the morning.
When we went back later, we were treated to bubble tea by the Building Bridges people, and they gave us a short spiel about what their organization does. They take a small number of students from Yale and other schools, such as Princeton, to rural communities in China for a week at the end of summer to teach students there. At the end of the short personal presentation, I was very excited to have the opportunity to go abroad and volunteer to assist people in need. All my life I've wanted to have a chance to do something like this, and the idea that it could actually be possible for me made me a very happy person that night.
After Building Bridges, we tried to go watch an improv show, but the theater was so packed that even the aisles were filled with people sitting down, so we decided to move on to other better venues of entertainment.
We visited the Yale Student Roundtable, where they were having a discussion on free will, and if it is ever possible to have complete free will. It was a very exciting discussion, and I even had the chance to put in my own thoughts. I had a really great time, not because of the topic, but because never before had I had a chance to listen to others discuss theories of Locke and Rousseau as well as compare individual values. In addition, all of the students there seemed genuinely interested in not only hearing what other current Yale students had to say, but also what the prefrosh wanted to contribute to the conversation. I was also extremely impressed with what everyone had to contribute to the conversation, prefrosh and current students combined. I wish I could go into all of the intricate discussions and ideas that I heard, but to be honest, a lot of it was over the top of my head. But it was definitely the highlight of the evening. In addition, they also made some pretty delicious scones for us prefrosh as well.
Overall, although I was sick, I had a great time for the first day of Bull Dog Days. Thank you to the ILC for making this trip possible! I'm having a great time, and I really think that I Yale may be the place for me.
Austin Long
Pinole Valley High School
ILC Brown '10